News and Events
SBA Christmas Fun Shoot 2017
A great turnout at this years Christmas Fun Shoot. A few challeging 3D animal targets around the woods (with an xmas theme). Thanks to Alan and Sue, and WhiteMark Bowmen for a loan of the targets.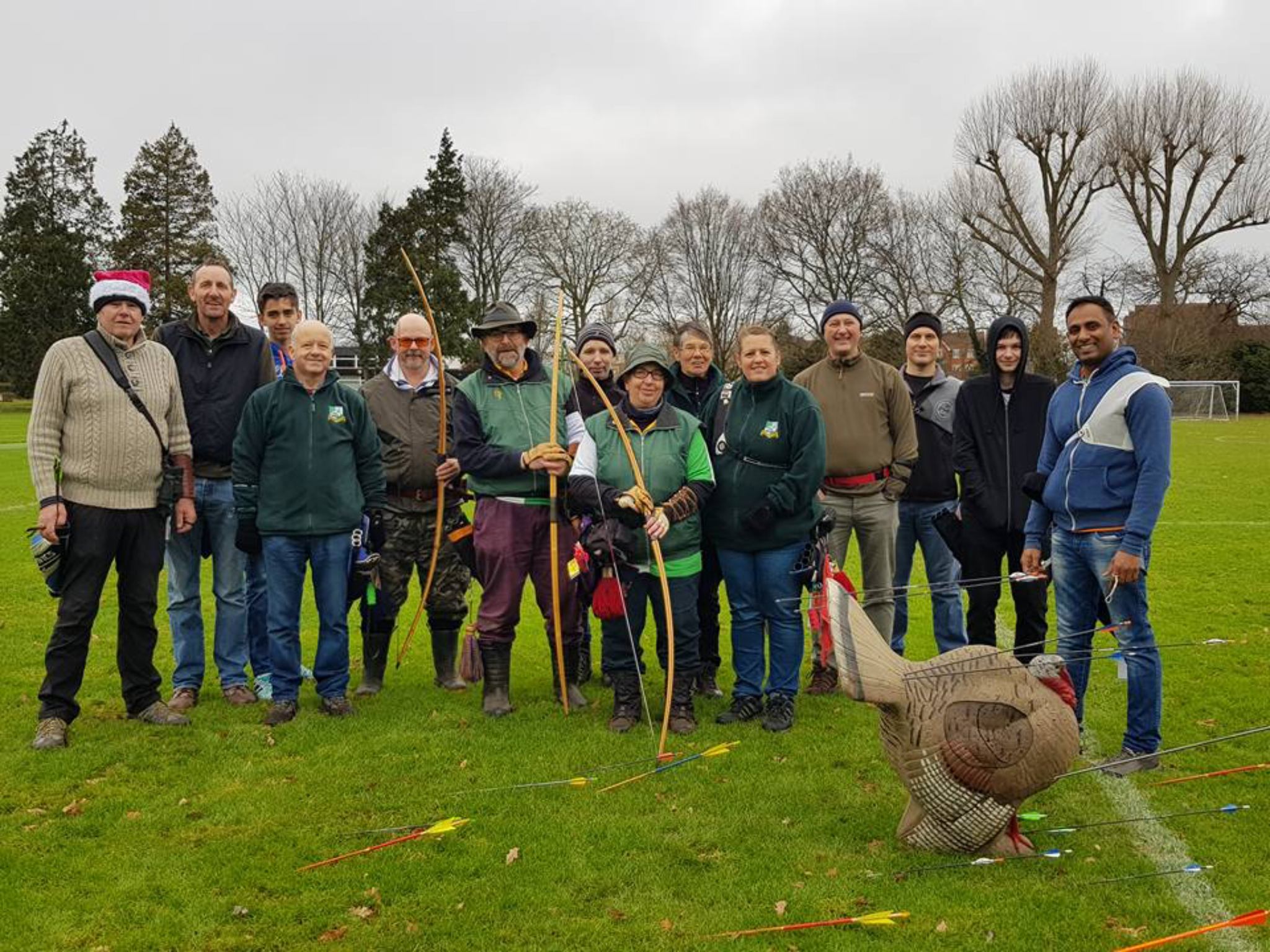 Vegas Target Night
A good nights shooting on this, another tricky 3 Spot , here are the results.

Kevin G. 454
Chris J 417
Ion M 408
Rob L 263
Peter 72 - a gents longbow club record :-)
Sash - retired

World Archer World Cup 2017 - stage 2
An SBA archer travelled to Bangkok to take part in the World Archery event. As the sole GB entry in his class, he also represented Great Britain. Great work Sash.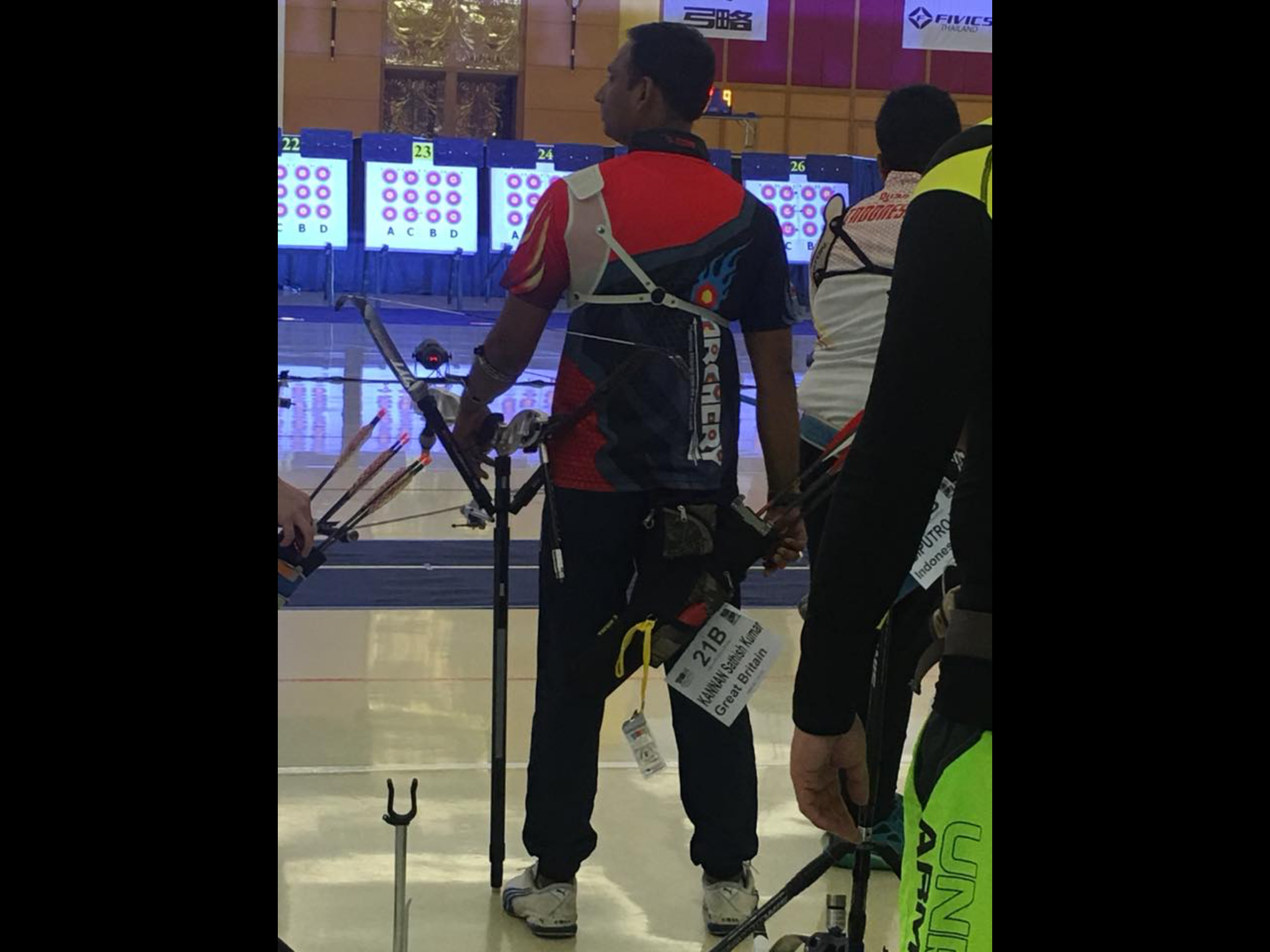 Fita 3-Spot Target Night
Well done to those that had a bash at the tricky 3 Spot , here are the results.

Kevin G. 457
Ion. 409
Chris J 402
Mark Ca. 312
Mary. 308
Rose 282
Sue 181
Sebastian. 125
Alan 117

Bucks Indoor Champs 2017
A wonderful shoot yesterday at the Bucks County Indoor Championship, hosted by Newport Pagnell Archers. Sue managed to retain her title by coming first in the Lady Longbow section. John Thomas also shot in the competition and we are awaiting the full results. Well done to all who organised, took part and helped.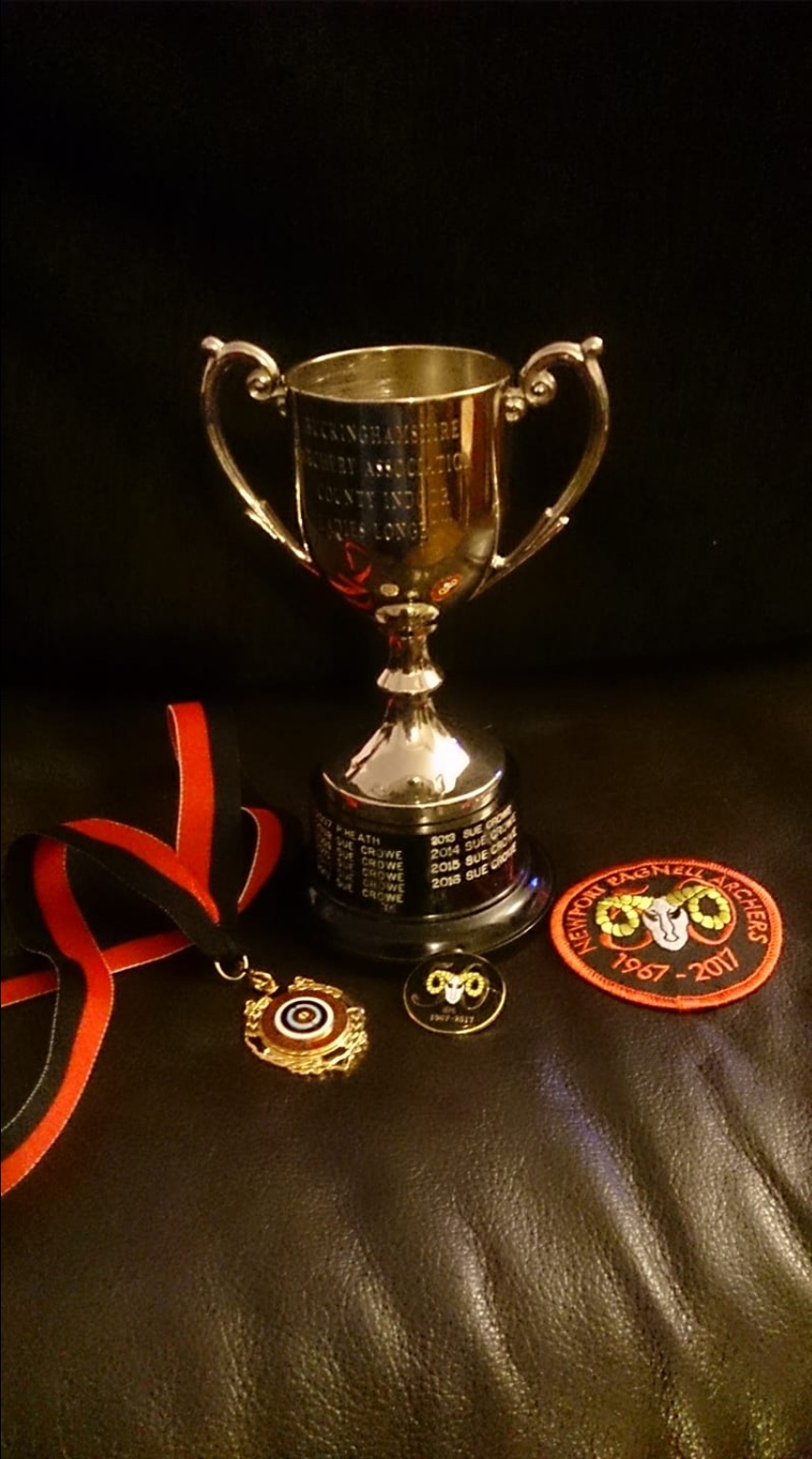 Halloween Target Night
We had 22 archers braving the dark hall to take part in our halloween extravaganza. Here are the results.

Ion 515
Sash 510
Chris B 445
Leanne 435
Mark Ca 425
Bruce 395
Mary 375
Kevin G 365
Rob D 365
Dave 350
Adam 280
Sue 275
Peter 270
Saffy 265
Mark Cr 260
Alan 220
Sebastian 195
Matt 180
Angela 175
Joyce 155
Kevin N 110
James 55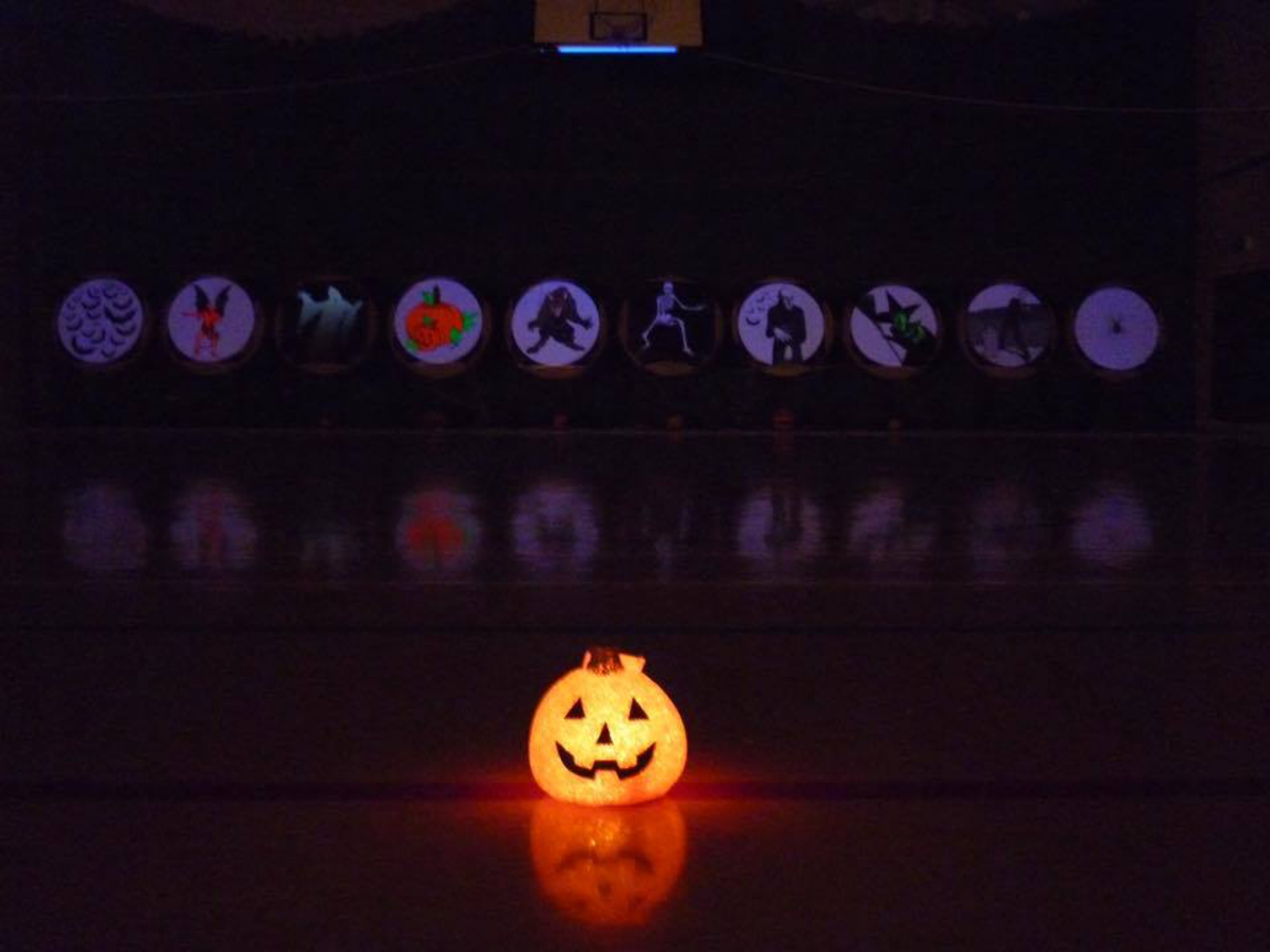 Spelthorne Floodlight Frostbite
Five of our members shot under the floodlights of Staines Rugby Club in the 4th Spelthorne Floodlight Frostbite last night. A very enjoyable shoot followed by chilli in the clubhouse. Well done to Leanne and Sebastian- 3rd and 1st in their respective categories- and thank you to Dave for getting everyone there!


Worcester Target Night
Well done to those that took on the Worcester, here are the results.
Sash. 268
Mary. 212
Dave. 211
Sue. 148
Rob D. 145
Seb. 134
Rob L. 133
Michelle. 53



MacMillan Coffee Morning Update
South Bucks Archers helped raise £101.13 for MacMillan Cancer Support. Thank you for all your help.


MacMillan Coffee Morning Events
South Bucks Archers are helping raise funds for MacMillan Cancer Support with Cakes, Sweepstakes and archery challenges.
Total raised £101.13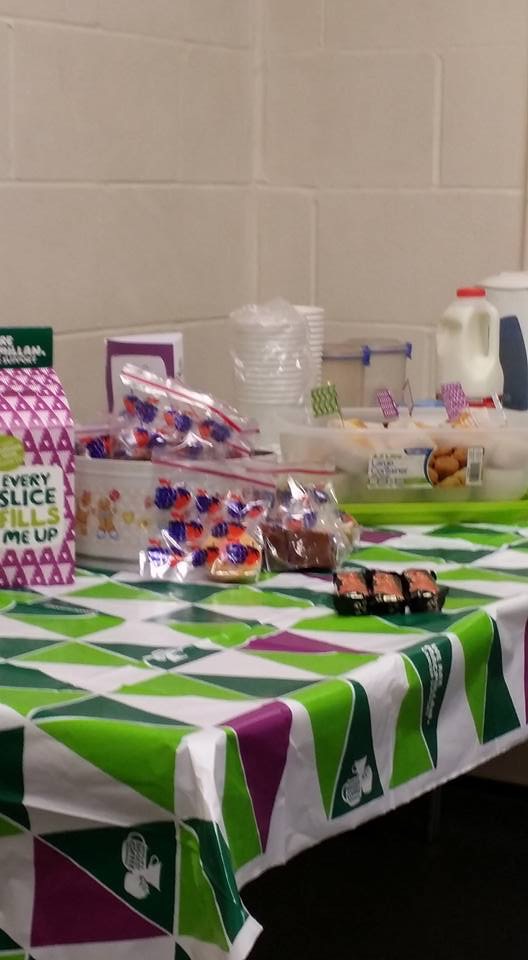 Bray and Yarb target night. .
Thanks to all members that turned up last night to take part in our 'Bray & Yarb' target night. Hope you all had fun. It was a challenging round . . .

Results of the night are .
Chris J - 418
Sash - 416
Kevin G - 410
Sue - 335
Rose - 332
Mary - 238
Sebastian - 229
Chris B - 226
Peter - 163
Joyce - 84
Kevin N - 76
Dave P - DNF



Wand Shoot
Members had another chance to try the dicipline of Wand Shooting.


South Bucks Archers - Archer of the Year 2017
Congratulations to Sash, South Bucks Archers - Archer of the Year 2017.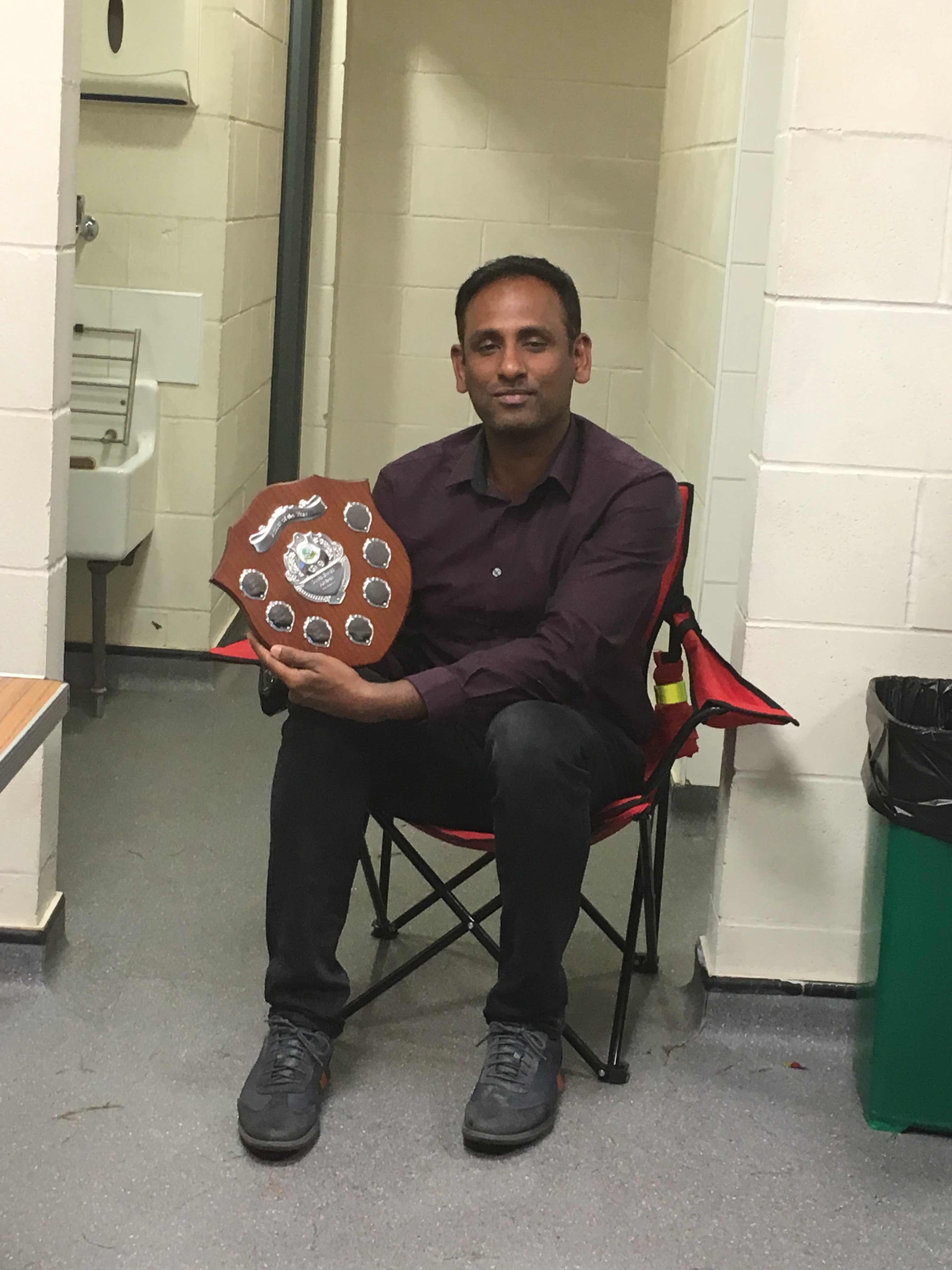 Bowmen of Warfield Short Metric - 3rd Sept. 2017
A nice haul of medals at the Bowmen of Warfield Short Metric shoot. Leanne came first in Ladies Longbow, Sue came second in Masters 60-69 Ladies Longbow, John got third in the Masters 50-59 Gents Longbow and Chris J took third in the Masters 60-69 Gents Recurve.


Bucks County Outdoor Championship
Alan, Sue, Kevin and Sash had lovely, but frustrating shoot at the Bucks County Outdoor Champs. It was a lovely day, but the wind was quite blustery. The men were shooting a York round and Sue was shooting a Hereford round. Sue came first in Lady's Longbow. Well done to all who helped and took part.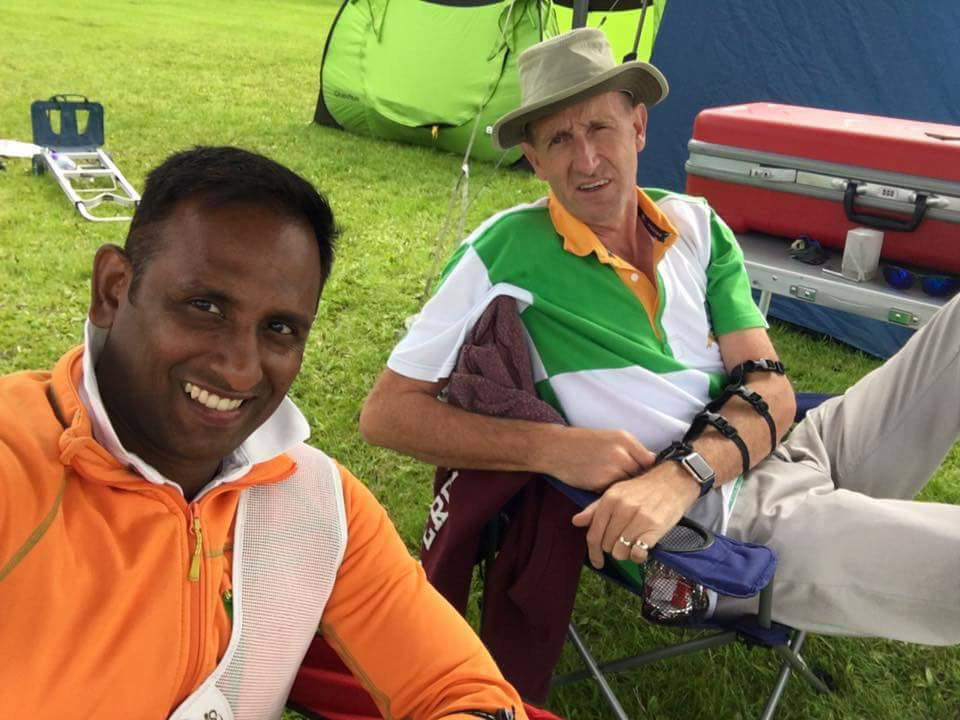 SBA Outdoor Club Championship 2017
A lovely day was had by all at the 2017 South Bucks Archers Outdoor Championship.
A handicap Western was the round of the day for senior archers, with the juniors shooting the Junior Western.

Congratulations to all category winners:
Gents Longbow
Gold: Rob Dudley
Silver: Alan Crowe

Ladies Longbow
Gold: Sue Crowe

Gents Barebow
Gold: Mark Crook
Silver: John Thomas

Gents Recurve
Gold: Sathish Kannan
Silver: John Murphy
Bronze: Kevin Gray

Ladies Recurve
Gold: Rose Bradley
Silver: Leanne Medhurst

Junior Gents Recurve
Gold: Sebastian Gray

Junior Gents Barebow
Gold: Adam Crook

Gents Compound
Gold: Steve Gould

Special congratulation to the champions.

Junior Champion this year is Adam Crook.
Overall Club Champion this year is Mark Crook

. . . and not forgetting our Petticoat Prize winner: Rob Leder

More photos here-


National Flight Competition
Well done to Kevin Gray who attended the National Flight Competition hosted at Leeds East Airfield, coming 2nd in his category - shooting 397.04yards.


Bucks County Clout
Six SBA members attended the annual Bucks County Clout competition on Sunday with men shooting arrows at a distance of 180yds, ladies 140yds and juniors 120yds.

Sue Crowe won the ladies longbow category while 15 year old Sebastian Gray won the gents U16s recurve competition. Leanne Medhurst came 2nd in the Ladies recurve and Chris Jordan, shooting in his first competition, came a very close 2nd in the gents barebow, scoring the same as the winner but two hits behind! Alan Crowe took third place in the Gents longbow whilst Kevin Gray came 5th in the Gents recurve. Well done to everyone that took part.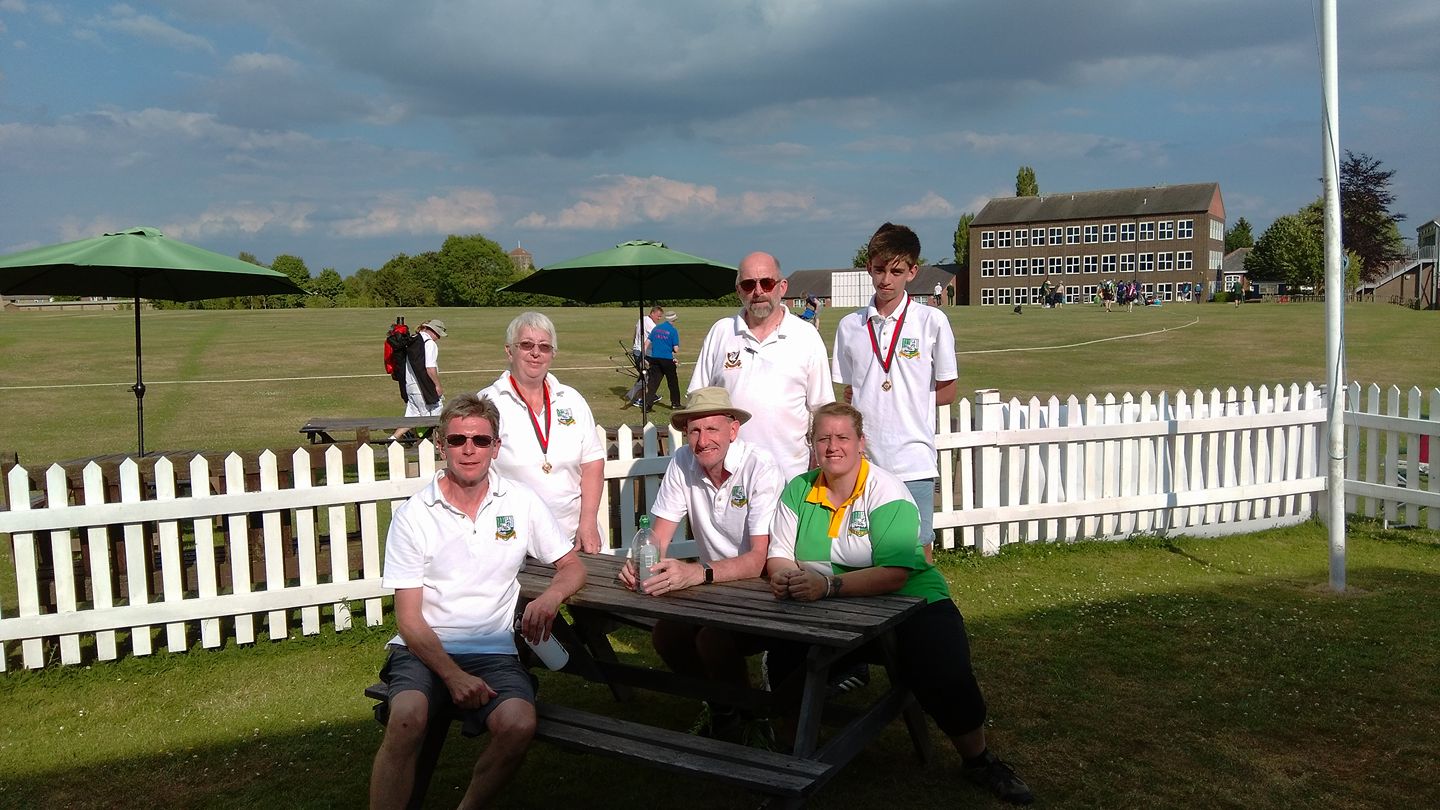 Portsmouth postal league winners!
Winter Postal League medals were presented to some South Bucks Archers for being part of the division winning teams. Well done and thank you to all that took part.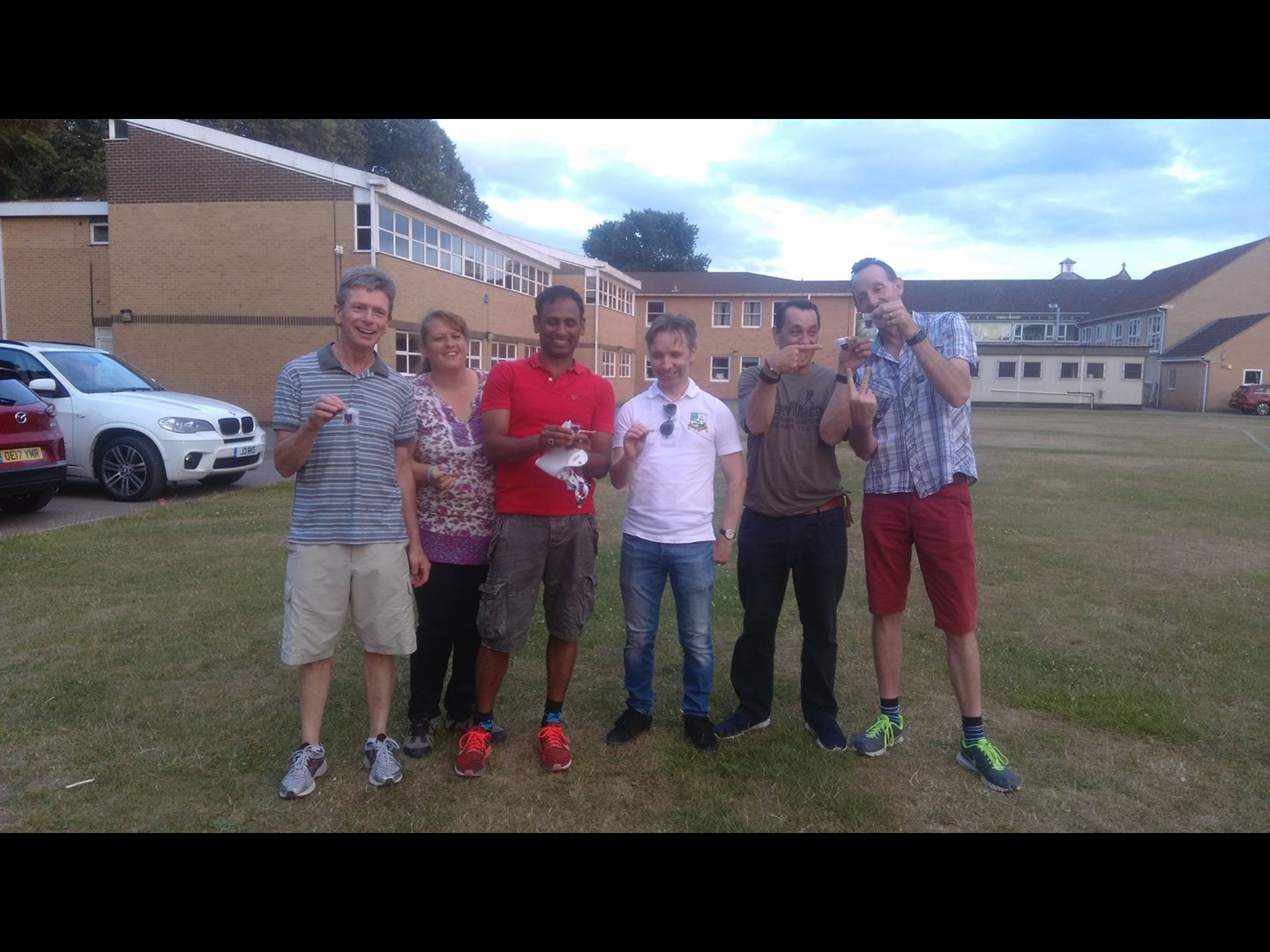 New Coach at SBA
Congratulations to Mark who was succesfully passed his Archery Coaching course, and joins Jason on the South Bucks Archers coaching team.


Summer Clout at SBA
A great day was had by many members of South Bucks Archers as they got some practice in Clout shooting, in preperation for the Bucks County competition.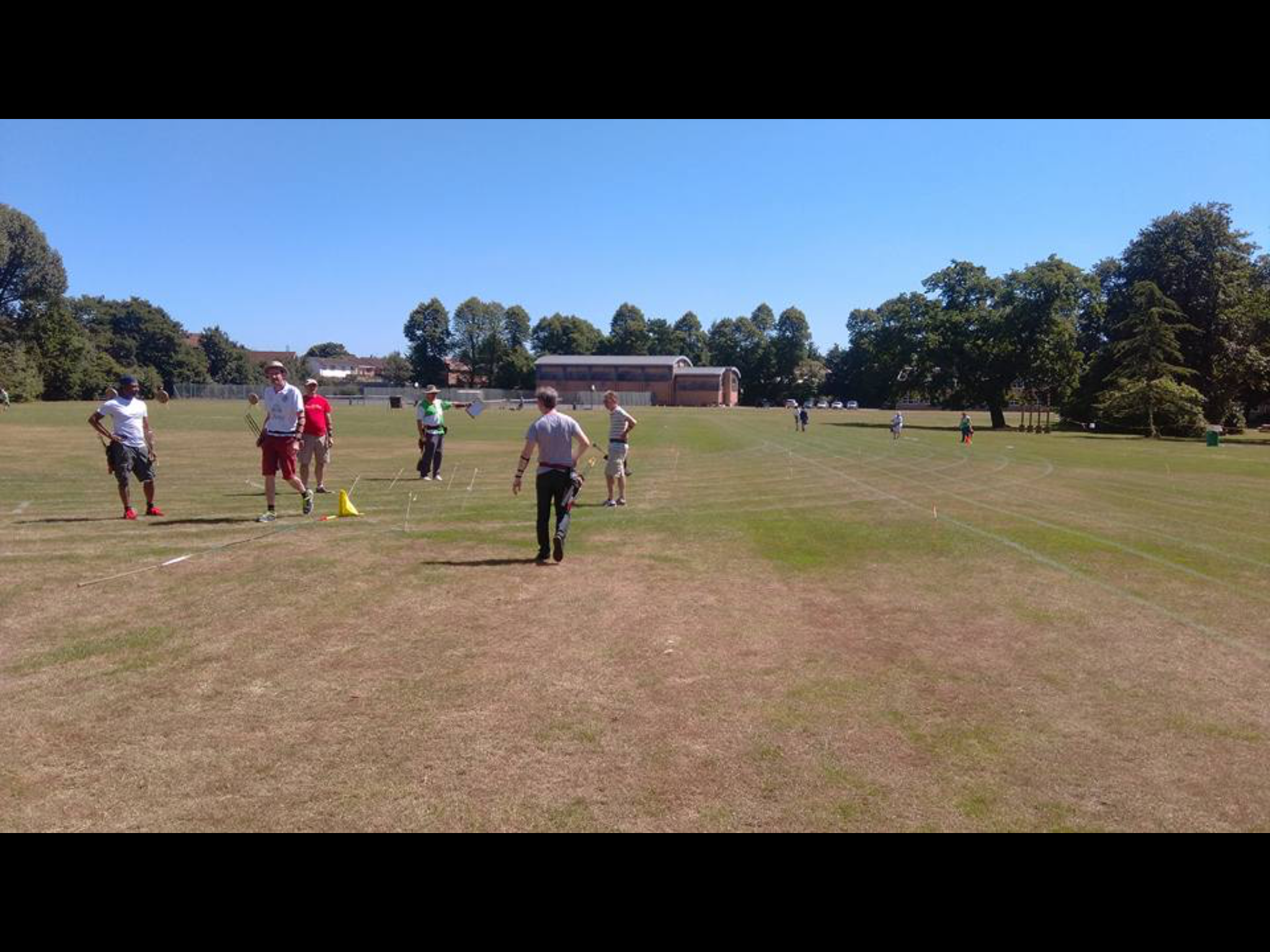 Mole Valley Bowmen Champs
South Bucks Archers we represented by Sue Crowe at this competition, and she came home with a second place medal in her bowstyle category.


OnTarget
South Bucks Archers has been classified as an onTarget Community specialism Club.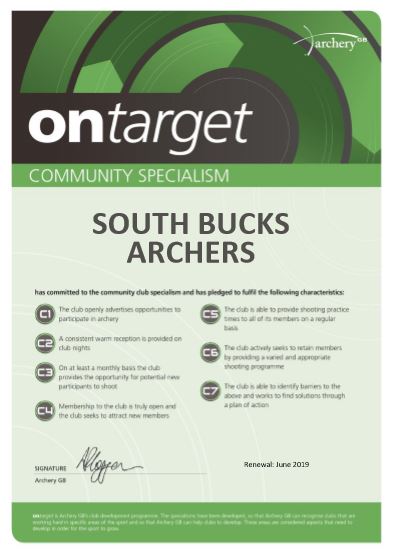 Archery GB's Big Weekend!
South Bucks Archers archery club hosted an Archery Big Weekend event on Sunday and invited budding bowmen and aspiring archers to come and try out archery, many for the first time. The club ran a number of ½ hour taster sessions which proved to be a big success with men, women and children of all ages keen to pick up a bow and aim for gold.

Club spokesperson, Mary Blumbergs, said "It was great to see so many people come and have a go at archery. Our experienced archers supervised members of the public who shot over 450 arrows between them. We had a wonderful time sharing our passion for archery on a lovely summer's day. The Archery Big Weekend is a nationwide initiative by Archery GB that encourages archery clubs to open their doors to the public to raise awareness of the sport. This is the first time we've taken part and we were amazed at how much local interest there was."

More photos here-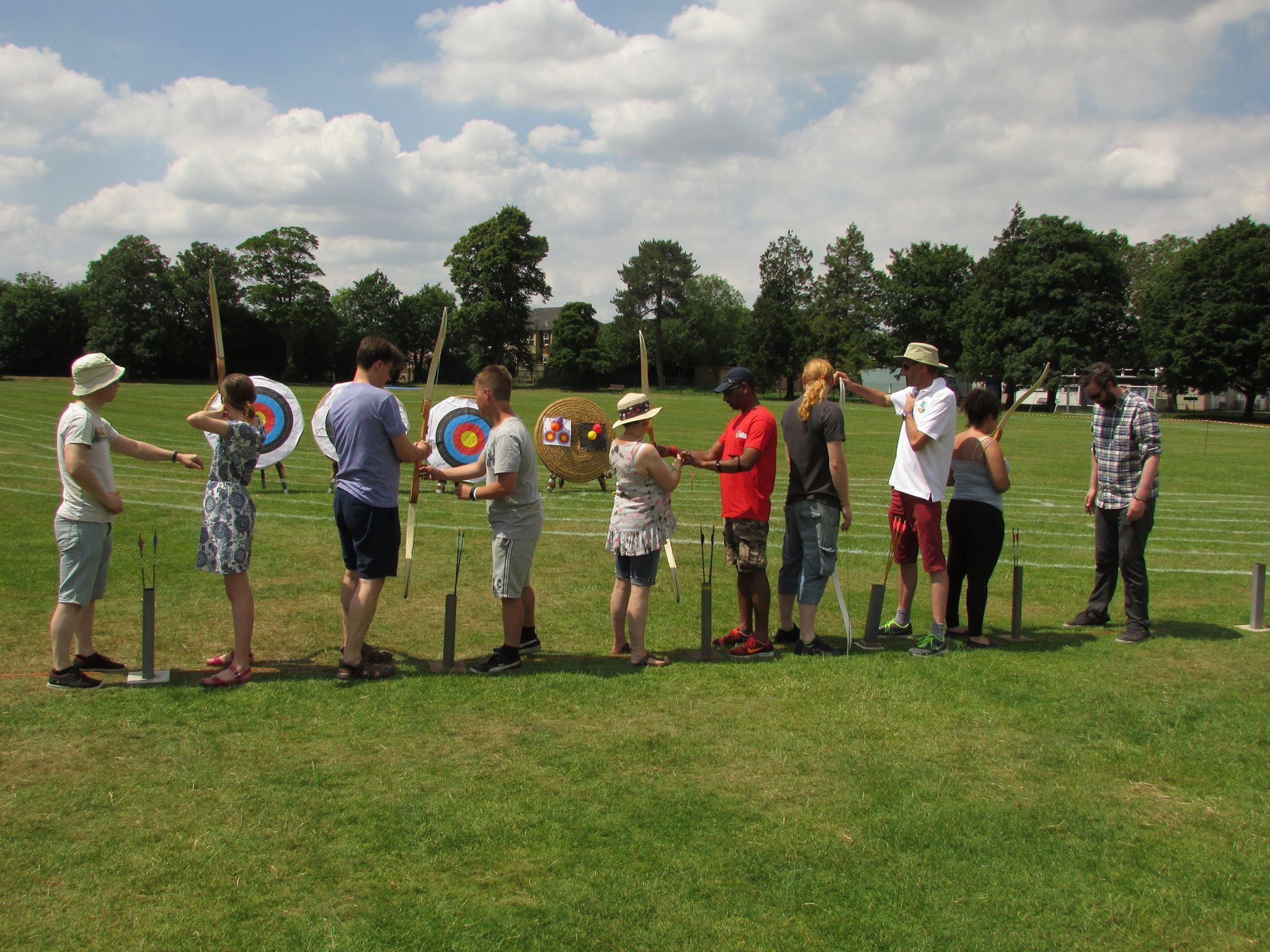 Competition Time.
Our members have entered a number of competitions recently including the SCAS Regional Clout, a number of metrics, both at home and abroad, some local long distance shoots - richmond pagoda, windsor @windsor , and more recently the bowmen of burleigh , where sue came first in her category.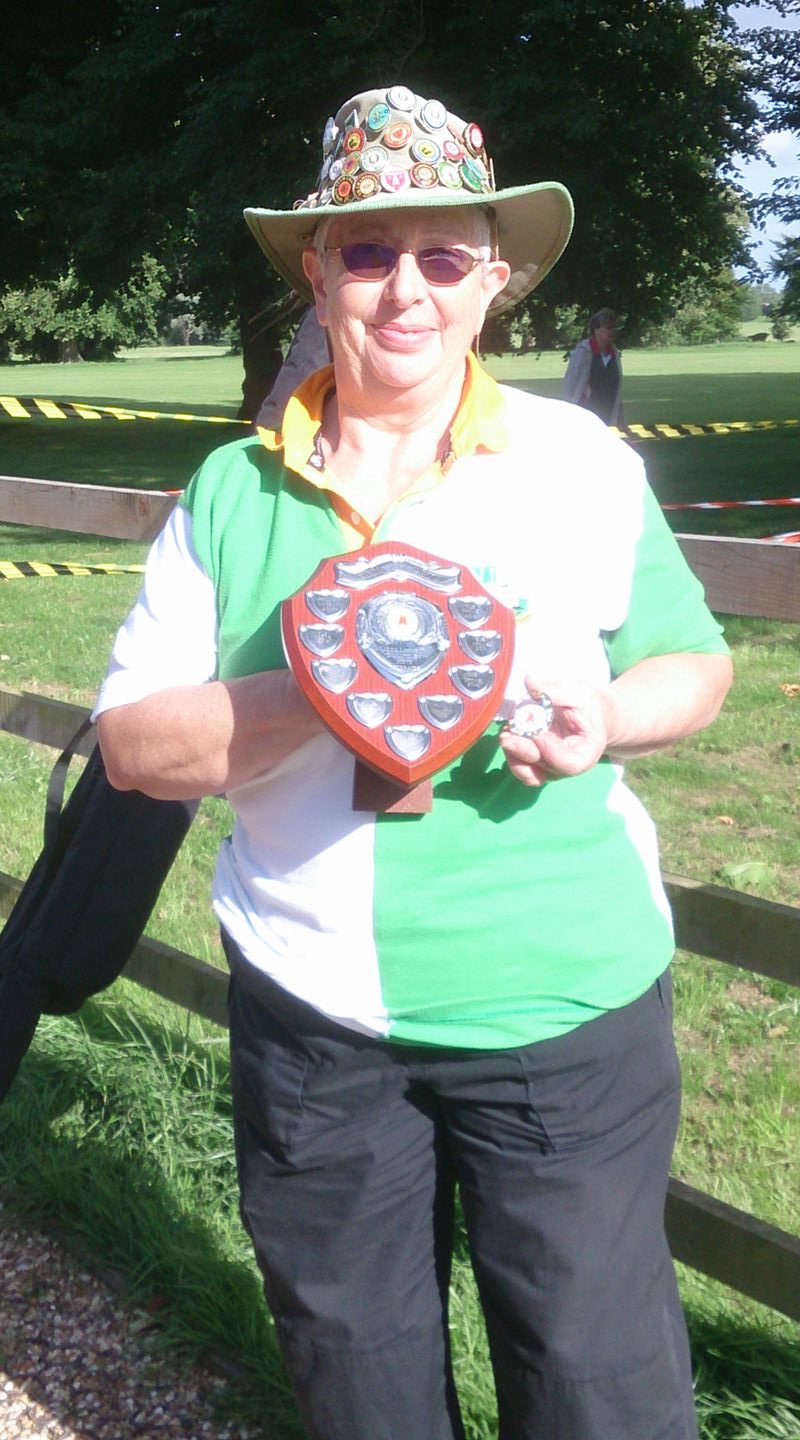 LongHaul Sunday.
The club opened for longer on Sunday to allow archers to attempt the endurance rounds, 12dozen arrows over varying distances.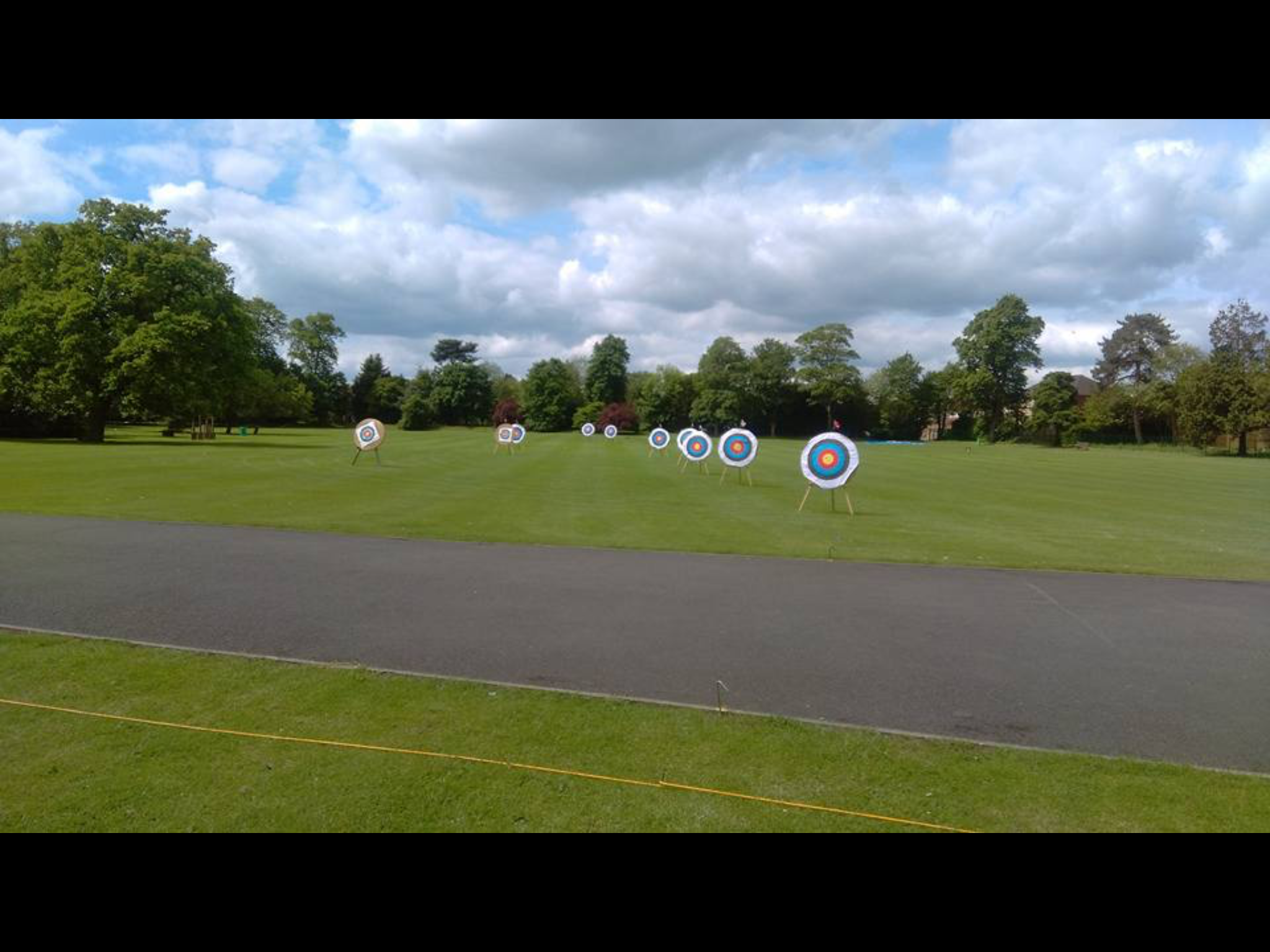 Clout Shoot.
Members enjoyed a Clout Shoot on Sunday. One of Sebastian's arrows went straight though the flag and into the clout peg! Well done, Seb!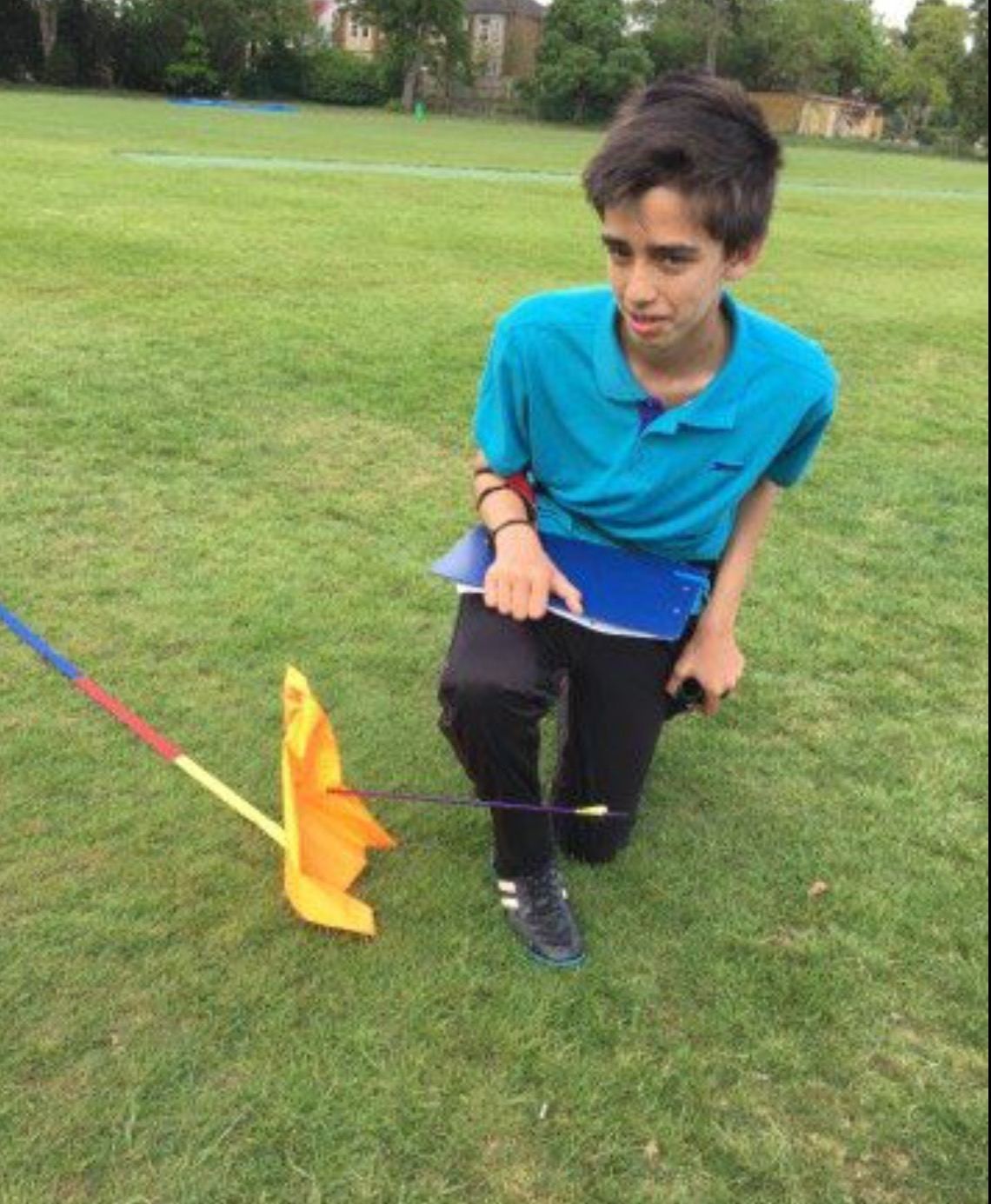 Whiteleaf's Longbow Shoot.
Sue Crowe strikes again @ Whiteleaf's Longbow Shoot. Shooting a new county record for lady's longbow.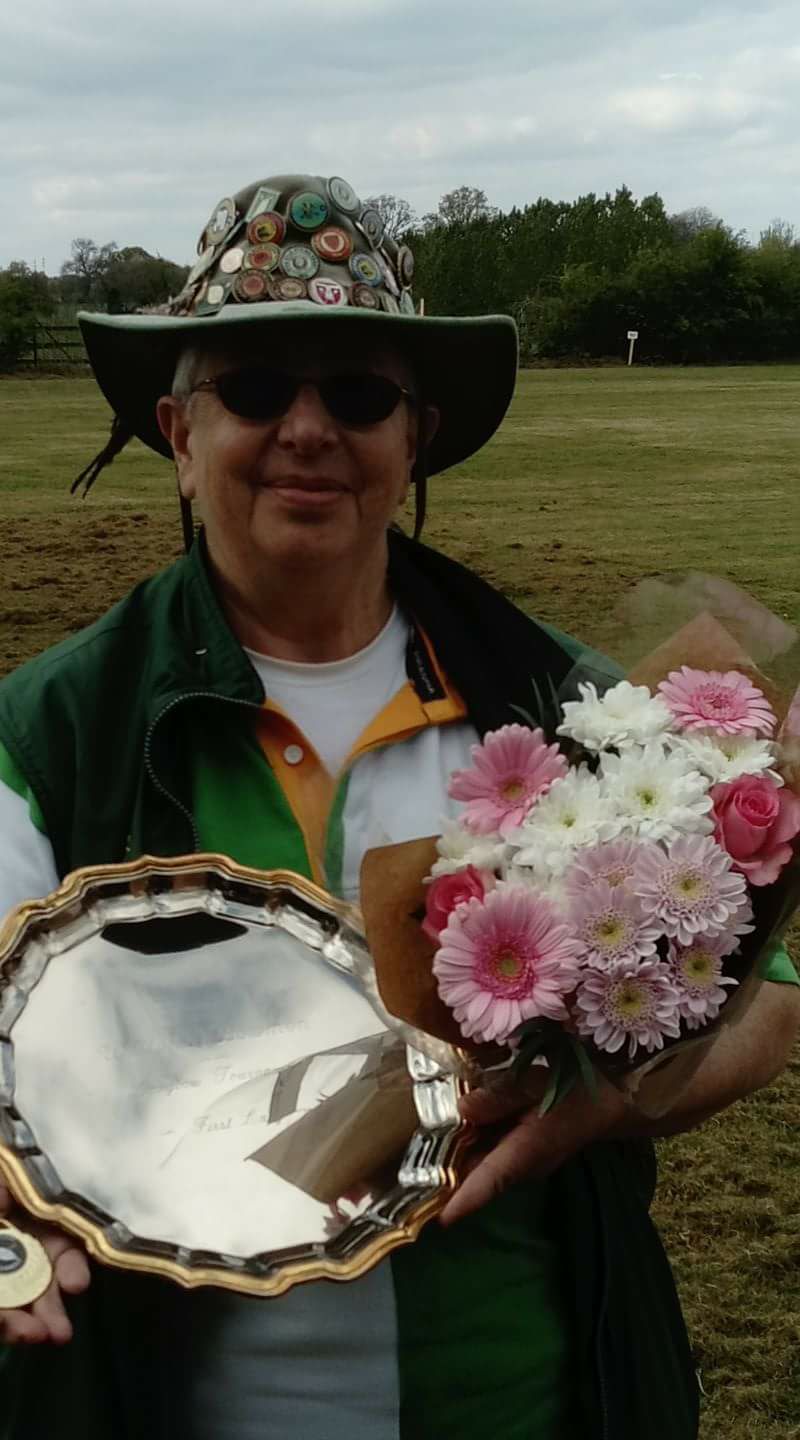 SBA Easter Sunday - April 16th 2017
Members enjoyed a sunny easter Sunday shooting, a few easter related prizes were won.. congratulations to Kevin, Mark and Joyce.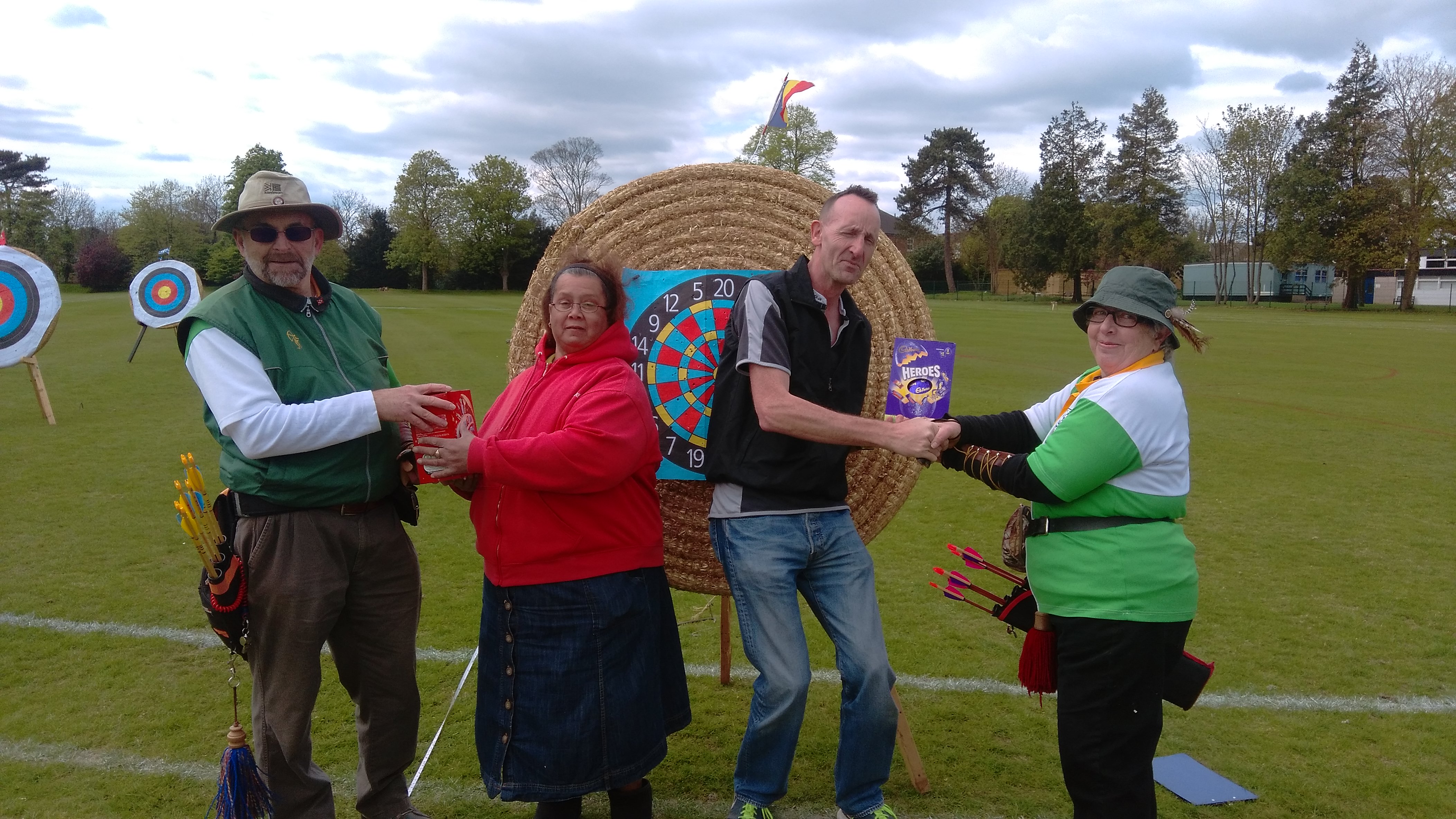 SBA Indoor Championship Shoot - April 4th 2017
South Bucks Archers held their first Indoor Club championship on Tuesday. With a new round designed for the event by the club's records officer, archers shot 64 arrows each at 4 different targets- one winner per pool then going through to an eliminator round.

The eliminator round saw American Flatbow archer Ian Brown, Barebow archer John Thomas and Recurve archers Leanne Medhurst, Sebastian Gray and Michael Winn pitted in knock out stages.

Sebastian Gray, the only junior archer, was the first to be knocked out, followed by Ian Brown, with Leanne Medhurst finishing in 3rd place.

The final round then saw John Thomas beat Michael Winn to become the club's first Indoor Champion.

It has been hard work creating the competition from scratch but it has been a thoroughly enjoyable event and a well-deserved win for John Thomas.


SBA Club Night - Worcester 5 Spot 07/03/2017
Our last indoor target night, a bit of a marmite round - you either loved it, or you hated it ... ;) - Here are the results from the night's shooting.

Kevin 217 R/C
Sash 204 R/C
Dave 166 R/C
Chris J 152 R/C
Mark Caines 144 B/B
Ian B 134 AFB
Mary 117 B/B
Sue 116 L/B
Sebastian 115 R/C
Chris P 109 R/C
Joyce 94 L/B
Alan 79 L/B
Kevin N 52 L/B
Archery GB January Challenge - The Results
During the month of January, your best portsmouth scores were submitted to Archery GB to be included in their January Challenge rankings. This ranking gives you a place against archers shooting in clubs across the country. You will have been entered in the category relevant to your bowstyle, gender and experience. . .

1= gents r/c new, 2= gents r/c, 5= ladies r/c, 8= gents l/b,
11= ladies l/b, 19= junior gent b/b, 20= gent b/b

Here are the results for South Bucks Archers, thanks for submitting your scoresheets. .



SBA Club Night - WA18 3-Spot 02/02/2017
A challenging 3 spot shoot, happy to see a lot of you turn up to have a go. Here are the standings from the night's shooting.

Michael 530 R/C
Sash 438 R/C
Kevin 423 R/C
Chris J 411 R/C
John T 361 B/B
Mark Crook 334 B/B
Chris P 239 R/C
Sue 225 L/B
Mary 223 B/B
Sebastian 170 R/C
Ian B 135 L/B
Adam 98 B/B
World Archery Indoor World Cup
Sash took part in the World Archery Indoor World Cup in Nimes, France last weekend, he was up against some world class archers..


SBA Club Night - Worcester Revisited 10/01/2017
A revisit to the Worcester Round to see if all this practice is making a difference. Here are the standings from the night's shooting.

Sash 273 RC
John M 234 RC
Dave 232 RC
Kevin G 232 RC
John T 218 BB
Leanne 211 RC
Chris J 208 RC
Chris B 201 BB
Ian B 195 AFB
Chris P 185 RC
Rose 177 RC
Sue 162 LB
Mary 159 BB
Sarat 151 RC
James Bateman 115 RC
Sebastian 104 RC
Joyce 82 LB
Alan 80 LB